What are the Dallas area's luxury home design trends for 2019? We love what we're seeing – sleek, uncluttered interiors influenced by mid-century modern design. Open floor plans continue to be in high demand, with an emphasis on high-quality materials and a cohesive look throughout the home. Luxury home owners are working with interior designers now more than ever, choosing luxe fabrics, furniture finishes, and art pieces that express their unique style.
Luxury Home Trend: High-End Finishes
We believe true luxury means combining the best quality pieces with a functional design, to make your home work beautifully for you. In today's open-plan interiors, we establish a sense of luxury with high-end finishes like marble tile or custom wood flooring, installing them seamlessly throughout the main living spaces. Without walls, seating areas are defined by bespoke cabinetry, designed around exotic woods and finished with the highest level of craftsmanship. A mixture of textures and finishes – honed and polished, chiseled and smooth – is a great way to add a subtle richness and low-key glamour.
Custom lighting is another luxury home trend that's even more popular in 2019. Lighting designers are more creative than ever, and automated voice controls are standard equipment in the luxury home. Here at NAI, we love statement-making light fixtures – they're like functional works of art! Custom ceiling finishes add a contrasting backdrop for even more drama.
One luxury home building trend that we predict will grow in the Dallas area is the blurring of lines between inside and out. Architects are adding window walls that disappear during warm weather, and we love marble and stone flooring that continues from indoors to out. Outdoor fireplaces, outdoor kitchens and media equipment have become standard luxuries that turn outdoor spaces into fully functional rooms.
Voice Controls Become A Luxury Home Standard
2019 might finally be the year of the Smart Home. Yes, we've had "smart" appliances and controls for lighting, media and security for years; but voice integration is this year's game-changer. Whether you've made friends with Amazon's Alexa, Google Home, or Apple's Siri, now you can put them to work managing almost every element of your home. Manufacturers have finally caught up, with kitchen appliances that help plan, shop for and cook complicated meals. An alert may even pop up on your tv telling you dinner's ready. You'll be perfectly comfortable throughout the day by controlling custom window shades, heating and cooling systems, lighting, and security. Use your phone or a simple voice command, and this amazing technology will learn your preferences and manage your environment for you. We think that's a worthwhile luxury!
High-End Kitchens Will Simplify and Inspire
With kitchens open to living areas, luxury cabinet trends include custom colors and furniture-grade finishes that continue the high quality, modern aesthetic of adjoining rooms.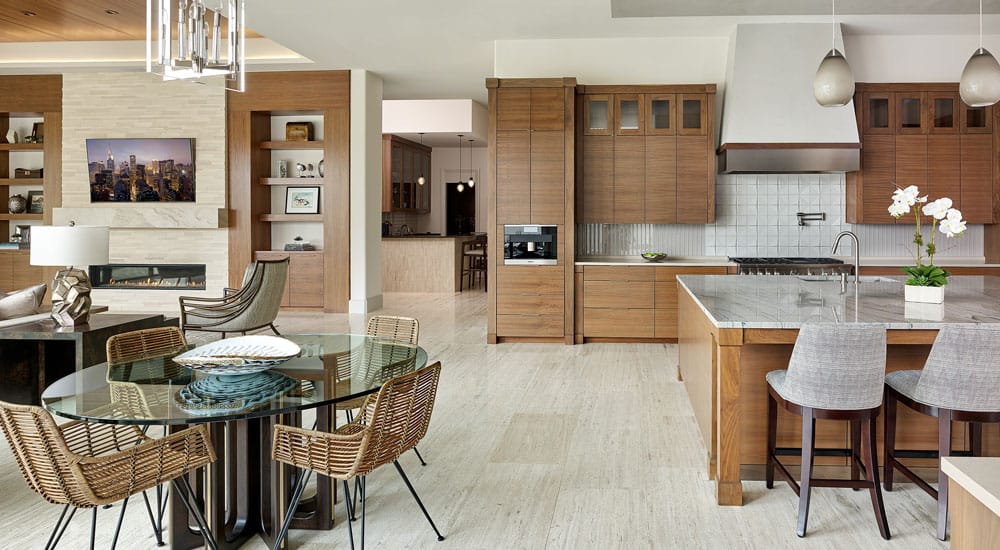 High end appliances are a necessity – with smart technology, you'll have more time to enjoy your guests while appliances do most of the work. In large homes, butler's pantries are back in style, since having extra prep area keeps the mess out of the kitchen. Luxury homeowners are also upgrading stone countertops to solid surface quartz, and investing in light fixtures that spark conversation.
Dallas Loves Mid-Century Glamour
Mid-century style continues to be the strongest trend in Dallas' luxury interiors. Upholstery is low-slung, with trim lines and slim legs, or metal pedestal bases. We love the trend of mixed materials on furnishings – velvet and brass, or exotic wood finishes with gilded legs. Metal accents add a low-key-lustre to these modern silhouettes.
Luxury today has a "less is more" attitude. As tastes have shifted to less-cluttered rooms, we've focused on furniture that makes a statement with superior design and craftsmanship. A work of art itself, this stunning chair combines eucalyptus wood and a bronze finish on a streamlined, modern frame :
Large scale, abstract art complements the Mid-Century look; color field paintings offer subtle references to nature, yet invite us to use our imagination to fill in the story.
Master Bath Luxury Trends for 2019
The master bath continues to play a major role in luxury home design. Large, walk-in showers with dual shower heads, programmable features like rain, steam, lighting and music create a truly personal experience.
Soaking tubs are back in style, with therapeutic features to help you unwind. Technology is becoming fully integrated into the master suite, as more clients ask for smart toilets. These modern wonders have heated seats, various cleaning functions, night lights for safety, and automated sensors to open and close the lid. All of these extras mean more time spent in the master bath, so many designers are adding seating areas and even fireplaces. Radiant-heat floors are a must, and spaces are fully tiled in high-end finishes like handmade ceramic tile, marble and stone.
What do we love about Dallas luxury interior design in 2019? We're choosing quality over quantity, and using technology to simplify and streamline our lives.
Other Design Inspiration Articles
We're thrilled to share some exciting news from the Nicole Arnold Interiors family! Our design commitment to excellence has caught the eye of Houzz again.

This is a subject near and dear to my heart. I started my first career in the apparel industry, immersed in fashion trends, runway shows and more denim names for the color blue than I could imagine! What most people don't realize is how similar the fashion industry is to the home interiors industry!

Pendant lights are one of the most popular lighting fixtures used over kitchen islands, and for good reason. These lights serve as elegant jewelry pieces that add a finishing touch to your kitchen's overall design. When done right, they can stand out and become a unique and stylish conversation piece.