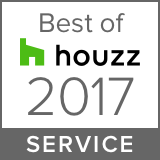 I'm very excited to announce we've earned another Best of Houzz award for Customer Service. Houzz awards these for "the number and quality of recent client reviews." Thank you to all of our clients for the opportunity to create beautiful spaces for them! We're excited for all that 2017 promises!
– Nicole
Other Design Inspiration Articles
Rattan has long been used in furniture due to its flexibility, durability, and ability to regenerate in 5-7 years, which is quicker than many other natural elements. In the past few years, we've seen rattan venture out to so many categories, including indoor and outdoor decor, furnishings, rugs, and more!

Spring is a great season for pastel tones grounded with neutral whites, creams, and sandy colors. This season we've selected fabrics and tones that bring us right back to our favorite beaches.